The Location:
The Golden Triangle (also known as Civic Center) is centrally located just to the south of Downtown in the middle of the hustle and bustle of Speer Boulevard to the west, Colfax Avenue to the north and Lincoln Street to the east.
All of the streets that provide the boundaries for the neighborhood are important transportation arteries for the city of Denver. Other notable streets include Bannock Street (north-south) and 8th, 13th and 14th  avenues (east-west).
The Golden Triangle is home to many civic and cultural institutions located in the northern part of the neighborhood in an area called the Civic Center:
Denver Art Museum (DAM) – Designed by the renowned architects Gio Ponti (North Building) and Daniel Libeskind (Hamilton Building), Denver Art Museum offers an impressive collection of permanent exhibits, as well as constantly changing temporary exhibits – recent line up includes: "Brilliant: Cartier in the 20th Century", Wyeth: Andrew and Jamie in the studio and Samurai: Armor from the Ann and Gabriel Barbier-Mueller Collection (currently on display).
Clyfford Still Museum – the only museum entirely dedicated to Clyfford Still's art work and his legacy. https://clyffordstillmuseum.org.
History Colorado Center – modern museum dedicated to preserving Colorado's rich history – http://www.historycolorado.org.
Denver Public Library – was designed by renowned architect Michael Graves and is the largest neighborhood library in Denver.
Civic Center Park – In 2012, the park (with it's 25,000 square feet of flower beds each summer) and surrounding area were designated as a National Historic Landmark – the first in the City and County of Denver.
The Golden Triangle is one of Denver's oldest neighborhoods, with homes dating back to the late 19th and early 20th centuries and has been through many transformations over the years.
Unfortunately, most of the historic homes were bulldozed in favor of the many surface parking lots, supply stores and other businesses shortly after World War II, when the Golden Triangle became a business support area for the central business district.
Another, more neighborhood friendly, transformation took place in 1990's –Central Library was expanded to include the new building and many new condominium and loft developments started to come into the neighborhood, followed by hip restaurants and art galleries.
Today, the Golden Triangle offers an eclectic mix of old world charm and modern day cultural icons, as well as amazing entertainment opportunities, all within close proximity to Downtown.
It is certainly become a hot spot for art lovers and culture buffs.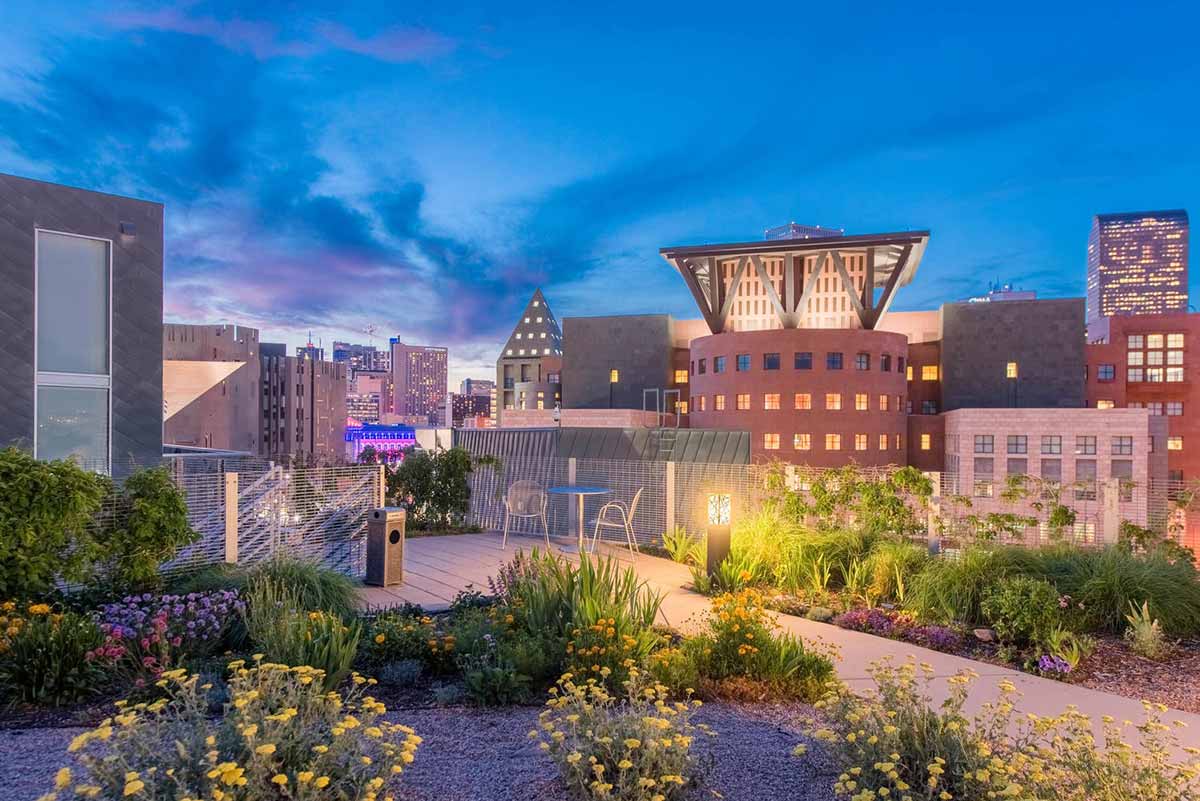 The Homes:
While The Golden Triangle is one of Denver's oldest neighborhoods, with homes dating back to the late 19th and early 20th centuries, not many of them remain today.
Nevertheless, The Golden Triangle offers renters and owners many different options from classic Denver bungalows and Victorian homes to modern condominium and lofts, as well as sophisticated rowhomes (some even include an elevator shaft).
The area has been developing very quickly since 1990's and notable projects include controversial Prado, Belvedere and Bauvallon by Craig Nassi, as well as more recent addition of The Museum Residences, a joint venture between Studio Daniel Libeskind and Davis Partnership Architects in Denver.
Who lives here:
Bike paths, Commerce, trails parks anything that is notable and is a big draw to the neighborhood.
Residents love the lifestyle it offers, it's all about the vibe here. You can hop on your bike and go for a ride on the Cherry Creek bike path.  Get your groceries at Tony's, a specialty food retailer offering local produce, huge selection of meats and seafood, a large deli and a European-style bakery and have a picnic in a park. Explore nearby world-class museums or numerous small galleries. Peruse the ever changing dining options – from the colorful Cuba Cuba, well known for it's mouthwatering roasted pork and plantains, to Dazzle, where you can listen to world class jazz and have an amazing brunch, to the brand new Tochy's Tacos – rave reviews so far, you have to stand in line to even get in!
According to the U.S. Census, the population of the neighborhood is around 1600 people. Median age – 39.6 years, 73% Caucasian, 31.8% are of Hispanic or Latino origin. (http://www.areavibes.com/denver-co/golden+triangle/demographics/).
Lots of young people professionals moving into the neighborhood, as well as retirees (empty nesters) who want to be within walking distance to cultural, entertainment and dining options, but find Downtown area too busy.
What you will pay:
Price of any of the homes in the neighborhood from apartments to multi million dollar homes.
There is a wide variety of properties you can buy in the Denver's Golden Triangle, depending on your taste for features and your desire for amenities.
To search current inventory of homes, go to https://lanasellsdenver.com/golden-triangle/.