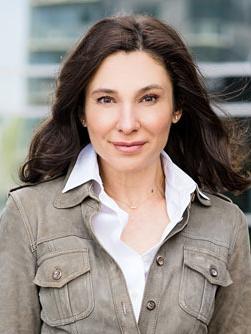 Lana Cordier
Denver Realtor | Global Real Estate Advisor
Global Real Estate Advisor, Traveler, Art lover and all things Denver explorer
LIV Sotheby's International Realty
LIV Sotheby's International Realty
100 Saint Paul Street
Denver, Colorado 80206
Lana Cordier blends a passion for art with unmatched international expertise to deliver the most comprehensive hands-on approach to every detail of your real estate transaction. A top-producing agent with a 20-year track record of results, Lana has represented over one-thousand transactions, achieving record-breaking prices in some of Colorado's most competitive markets. "I've been told by my clients that my strongest skill is my follow up," says Lana. "Experience, expertise, my secret sauce if you will, communication, and attention to detail – these are among the top reasons clients hire me. I believe that if I take care of my clients, the business takes care of itself." Of course, taking care of "the business" is what Lana is known for.
Achieving great success as an entrepreneur and savvy real estate professional with an extensive background in development, Lana's story is one of perseverance, hard work, and international appeal. Her portfolio spans from the U.S. to Europe, where she travels frequently for business. Additionally, Lana is an associate members of the Denver Art Museum, where she also volunteers as a touring docent, and is an avid supporters of the Denver Performing Arts. If you are looking for an agent who is uniquely skilled and passionately committed to delivering first-class service with a global reach, give Lana Cordier a call.
Highly likely to recommend
08/30/2022 - jessica alexander27
Bought and sold a multi family home in 2022 for approximately $825K in Denver, CO 80218.
Lana is exceptional, and a pleasure to work with! She truly is the best of the best. As our realtor, she was an outstanding advocate and guide for my husband and I to help us to sell our home and purchase a new home in Denver. We were thrilled with the sale of our home over asking price and the purchase of our new home under asking price - we got the best-case scenario for both transactions, an incredible result! Lana is highly professional and communicative. She brings years of experience and knowledge of the Denver market and is a great resource, providing us with the best information for us to make decisions throughout the course of the long, detailed processes of the home sale and home purchase transactions. We cannot say thank you enough to Lana - and we highly recommend her to others looking for a realtor!
Highly likely to recommend
08/02/2022 - dome jon
Bought a single family home in 2022 for approximately $1.200M in Denver, CO 80207.
Lana was an outstanding partner in helping us find our home. Great communication and professionalism throughout the entire process. The last year has been challenging finding a home in Denver with such low inventories. It was great to have such an excellent partner to make sure we found the home we love. We'll be working with her again in the future.
Highly likely to recommend
11/08/2020 - Viktoryia Stackle
Bought and sold a single family home in 2020 for approximately $475K in Aurora, CO 80015.
Lana is an outstanding agent I would recommend to everyone I know. She managed our purchase of home in Denver when we were moving from St. Louis and what impressed the most was her dedication to understand what we need and search endlessly for the house that will be the right fit. She is also an excellent communicator, always kept us very informed and fully comfortable with every step of the process, which is critical when dealing with large purchases like that. She was that great that we used her again when selling our house due to work relocation out of state, and yet again, she delivered great work, sold the house for the price we were going after and made the sale go very smooth. If we ever purchase property in CO again, Lana will absolutely be our agent.
Highly likely to recommend
07/21/2020 - Joy Hamilton
Bought a home in 2020 for approximately $300K in Denver, CO 80211.
We were first-time homebuyers in the Denver area and couldn't have asked for a better realtor than Lana. She was patient and understanding with us figuring out our needs and also was honest and realistic about the properties we were looking at - a quality I really appreciate with a big decision like this.

Lana was always accessible via her app, texting, or phone calls and also is an excellent communicator with the other party. We ended up finding the perfect condo in the perfect location and couldn't be happier. If we move again I know we'll contact Lana because we trust her and appreciate the hard work she puts into making her clients feel supported and confident in their purchase.
Highly likely to recommend
04/09/2020 - fstiebler
Sold a single family home in 2020 for approximately $375K in Westminster, CO 80030.
Lana was everything I needed her to be to sell my home. I had some very personal things going on in my life right after she put my home on the market. Not be able to handle much of anything at that time, Lana was so helpful and made sure I was comfortable with all of it. There is no way I could've gone thru it without assistance and caring. If there is anyone I know that is looking to buy or sell please be assured Lana is the one a recommend!!! She was awesome!
Highly likely to recommend
12/21/2018 - carla53159
Sold a single family home in 2018 for approximately $775K in Lakewood, CO 80228.
Lana is the best. From the marketing and staging to the closing she is an absolute professional. Our sale was quick and smooth. My husband is handicapped and she even got the title company to come to us for the closing! Couldn't have done it without her!
Highly likely to recommend
08/17/2018 - ssmith cp
Bought a single family home in 2018 for approximately $400K in Westminster, CO 80020.
Lana cares about her clients and I recommend her highly! She was honest about what she though about houses we looked at, I never felt pressured to buy. We were in constant communication and she was clear about what I needed to get done to close. Lana cares about the details, doing things right and for my best interest. I'd recommend Lana to a family member and I recommend her for your next house purchase! Thanks Lana!
Highly likely to recommend
06/06/2018 - dmu061272
Bought a single family home in 2018 for approximately $400K in Westminster, CO 80021.
We came to the United States on June 16, 2017. Our dream was to buy a house here. Lana is our first real estate agent, who fluently speaks both Russian and English languages. We heard about Lana not only in the U.S, but in Belarus, the country our family came from. Buying a house is a complicated and long process, especially for those who just immigrated. From the very beginning Lana was helping us to navigate in this, professionally making contracts, texting with lander and seller. As a result of our cooperation, we bought or own single family house on May 30, 2018 in the area we wanted to. For our next estate purchases we'll choose Lana to be our agent. Thank you Lana for your outstanding and professional job.
Highly likely to recommend
01/08/2018 - rickplenge
Sold a town home in 2017 for approximately $725K in Denver, CO 80202.
In dealing with three home sales and purchases over my life time I can honestly say that Lana was the most professional, responsive and genuine realtor that I have had the pleasure of working with. I would not hesitate to recommend Lana to anyone looking to purchase or list a house in the Denver market.
Highly likely to recommend
11/08/2017 - katy s booream
Bought a single family home in 2017 for approximately $700K in Denver, CO 80246.
Honestly I wouldn't have had anyone else help us with our Home Buying. We have worked with other realtors before and they don't compare. We moved from NYC to Denver and Lana couldn't have been more helpful with the odd hours, travel, and communication back and forth.